Before the interview I would like to highlight in this collaboration we've done with the amazing & great illustrator Appear Offline we have implemented both a Spotify playlist that you can listen to here and also an exclusively made t-shirt that will be available during a limited run on the shop which you can find here – Our recommendation will be to press play on it and then head back here to the article, read through his replies & thoughts about the art scene. I would like to personally thank Appear Offline for taking his time and doing this with us.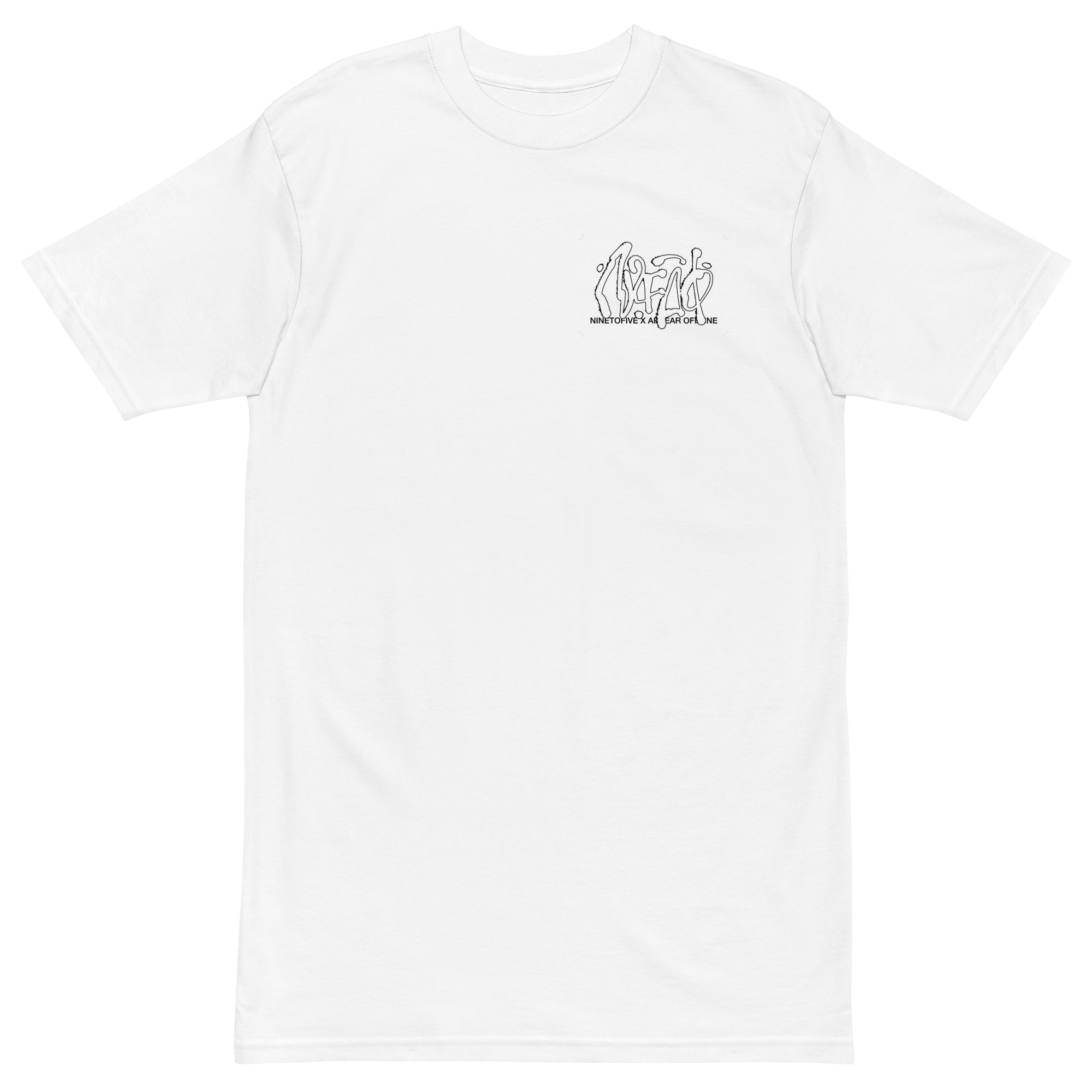 HISTORY WITH APPEAR OFFLINE
When you first started out designing under the Appear Offline brand – what were your main inspirations? The tools and styles you're working with from my perspective is minimal design that's clashing forces with urban/street graffiti elements such as tags, drips and aesthetics you often see on walls around the city.
It slowly started around 2015, when I wanted to merge my two main creative occupations – graphic design with graffiti to create a platform where I could freely express my visual ideas. My 9-5 job –working at the design agency felt too limiting while on the other hand, painting graffiti was mostly based around repeating the same style over and over again. I wanted to create something new, where I could experiment, explore different styles and establish my own rules. Since I didn't have any real projects at that time, I started experimenting with some random letters, words and quotes and after some time I expanded it to something more concrete–self-initiated design concepts and typographic logotypes. Around those years, whole social media landscape looked quite different than today, not many people posted their design work online, so my posts got noticed quite quickly.
THE FUTURE
Since we met up last time in Copenhagen you've worked countless hours and improved your style, organically growing your name and the style of yours and it has become quite iconic – Could the future hold doing gallery shows for the people? A locked section on your website is also the shop, do you have plans to expand the graphic design into clothing & art for the people that show support?
Yes, that's true. I'm constantly trying to improve my visual out put and come up with the work that looks fresh and alluring. I easily get bored of repeating the same thing, butt on the other side I like to keep myself framed, for example by using similar elements, textures, and color palette to maintain recognizable aesthetics and visual language. I would love to do gallery shows and exhibitions because it feels extremely satisfying to create something long-lasting–physical and concrete. That's the exact reason why I'm planning to open the online shop soon, to extend my visual universe and create some more functional and wearable items
MUSIC & ART CONNECTED
An interesting topic we've chosen for this is how music and art blend together so organically. A playlist that you've decided to create filled with 25 songs that inspire you when creating pieces. When you're listening to tracks, do you get in a certain mood and start sketching on paper? Would love to hear about the general process when you work with projects?
Music is one of the key inspiration sources for me, I even used to DJ and host parties few years back. I simply enjoy having a soundtrack for different activities, especially when I sketch or design. Lately I've been trying to incorporate more music into my work by creating videos and animations. I would definitely love to collaborate with other artists and producers to create visuals for music videos, live shows and physical releases.
When it comes to my musical preferences, I'm not limited by genre so my selection can range from instrumental chill to something more progressive and up tempo. I love music that manages to capture some specific atmosphere or mood, it motivates me to visualize what I hear. That's the main key how I selected these 25 songs for our NINETOFIVE playlist – tracks that I always go back to, even after playing them countless times.
TOOLS OF THE TRADE
Many artists are using iPads, digital tablets to illustrate and draw ideas. What are some of the tools you go back to using and do you limit yourself to a certain amount? On your Instagram there's a great blend between working both inside on digital tools but also outside on concrete walls using just black and white coloring for graffiti pieces.
I love to combine different techniques and transfer principles from one area to another. Ipad and digital tools are extremely useful when it comes to workflow, speed of the process and quick experimentations but I still enjoy most to scribble on paper and make hand sketches. There's something special about accidental moves and gestures that are not planned, almost like they give you a hint to some new ideas. That's why I mostly start on paper and then develop idea further digitally. When it comes to graffiti & painting, I would love to do it more often, to create a better visual connection between my digital/physical pieces and to see my work enlarged and displayed in various settings
TODAY'S CLIMATE
With thousands of art pieces made, generic styles that copy each other how do you see todays climate in terms of making digital pieces? Is there any upcoming artists or specific names you'd like to give a shoutout to?
Good question – I think about this a lot because I see that the "culture" of blatant referencing is getting wild these days. Few people are coming up with something new while big majority is just recycling what currently is popular. I often see some of my work getting copied and in 99% cases those artists say they got inspired on Pinterest without knowing who the original author was–so it seems like some people take Pinterest (and other visual networks) as a big "Free For All" referencing library. I don't think there is a solution to that so I'm always trying to be one step ahead simply by following my creative intuition and creating what feels right at the given moment. Some of the artists I admire the most are: Parra, Horfee and Gasius because they managed to create their own visual genre, they produce work that feels genuine, and they managed to collaborate with brands without compromising their aesthetics and visual output.